原文来自:SuperYacht Times newspaper XIV
本文作者:Ellie Brade, Gemma Fottles
---
Allen Leng, Chairman of Chinese shipyard Heysea Yachts, is a man with big ambitions. "My vision for the next decade is for Heysea to be one of the world's top 10 shipyards in the 40 to60-metre sector," he says.
海星游艇董事长冷学华先生是一位有远大抱负的人,他表示"在未来的十年内,海星要在40-60米游艇系列成功进军全球前十"。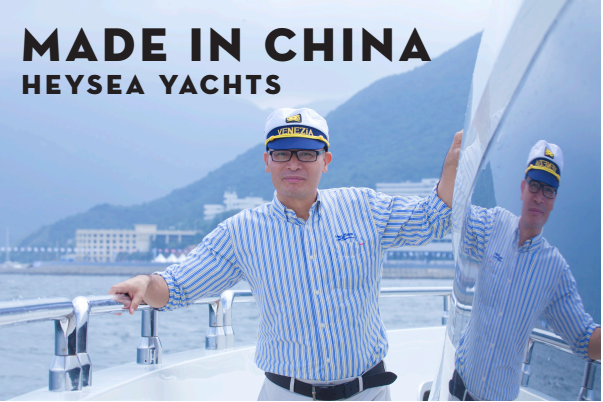 △海星游艇集团董事长冷学华先生
If the shipyard's performance over the past decade is anything to go by, this ambition is one that should be taken seriously by the superyacht industry. Celebrating its tenth year in business in 2017, the yard says it is responsible for the largest number of yachts 60' andover in mainland China – numbering more than 100 – andhas 10 projects currently under construction, ranging from 58' all the way up to a custom 43-metre catamaran.
如果从过去十年海星的表现来看,这一目标应受到超级游艇行业的高度重视。2017,正值海星成立十周年之际,海星已是国内60英尺及以上游艇占有量最多的船厂,船只交付数量逾百艘。目前有10多个项目正在施工,尺寸横跨58英尺游艇到43米双体游艇。
Heysea Yachts was founded in 2007, anotoriously testing time for even long standing operations let alone new ones thanks to the Financial Crisis, after Leng and his colleagues identified a gap inthe market for Chinese white boat construction.
海星游艇成立于2007年,突发的金融危机让历史悠久的公司也备受煎熬与冲击,何况是刚成立不久的海星。然而,冷学华先生及其团队以其敏锐的市场嗅觉,找准游艇市场的空白领域,成功打开缺口,击破僵局。
Having studied naval architecture and engineering Leng had encountered commercial ships but had very little to do with yachts and it was only when he spent time living and studying in NewZealand, a country where time on the water is a way of life, that he was first properly exposed to the world of leisure yachting.
冷学华先生毕业于船舶设计与制造专业,尽管他在商船领域有较深厚的造诣,但早期与游艇接触相对较少。直至他到新西兰生活与学习,在这个拥有水上生活方式的国家才真正打开了游艇世界的大门。
On his return to China he was determined to create a company that would be able to foster the same love for sailing in China as he had seen first hand inNew Zealand. "I came back and I said 'we need a Chinese brand for sailing and power yachts'," he remembers. "These yachts represented an artistry of building and of course the engineering side was interesting for me too."
回到中国后,冷学华先生决心要在中国成立一家公司,如新西兰一样能够培育与延续对航海的喜爱与热情。"我回国时曾说过,我们需要一个专门从事帆船与游艇制造的中国品牌"冷学华先生回忆道,"这些游艇要做到结构与艺术相结合,这也是我感兴趣的。"
△游艇,随手拍都是一种艺术
And so Heysea Yachts was born, with avision to create a market-leading shipyard and to help bring the world of yachting to China. Initially focusing on the 60 to 80' market Leng himself worked on the development of the naval architecture, exterior and interiordesign of the Heysea range, a process he still enjoys today.
于是,海星孕育而生,肩负着打造市场领先的游艇厂以及引进世界游艇文化的使命。最初,海星专注于60英尺到80英尺的游艇市场,冷学华先生亲自参与Heysea系列的外观、内装与结构设计,一直坚持到现在(所有游艇系列),依然很享受着这个过程。
Originally the business plan had been to target the worldwide market from the get go but with the onset of the Financial Crisis, focus shifted more to the local market, a move which proved incredibly beneficial in the long run as the yard fast proved popular within China.
海星原本便是以全球市场为战略目标,但随着金融危机的到来,重心转移到了国内市场,而事实证明这一举措是非常正确的,海星的游艇在国内倍受推崇。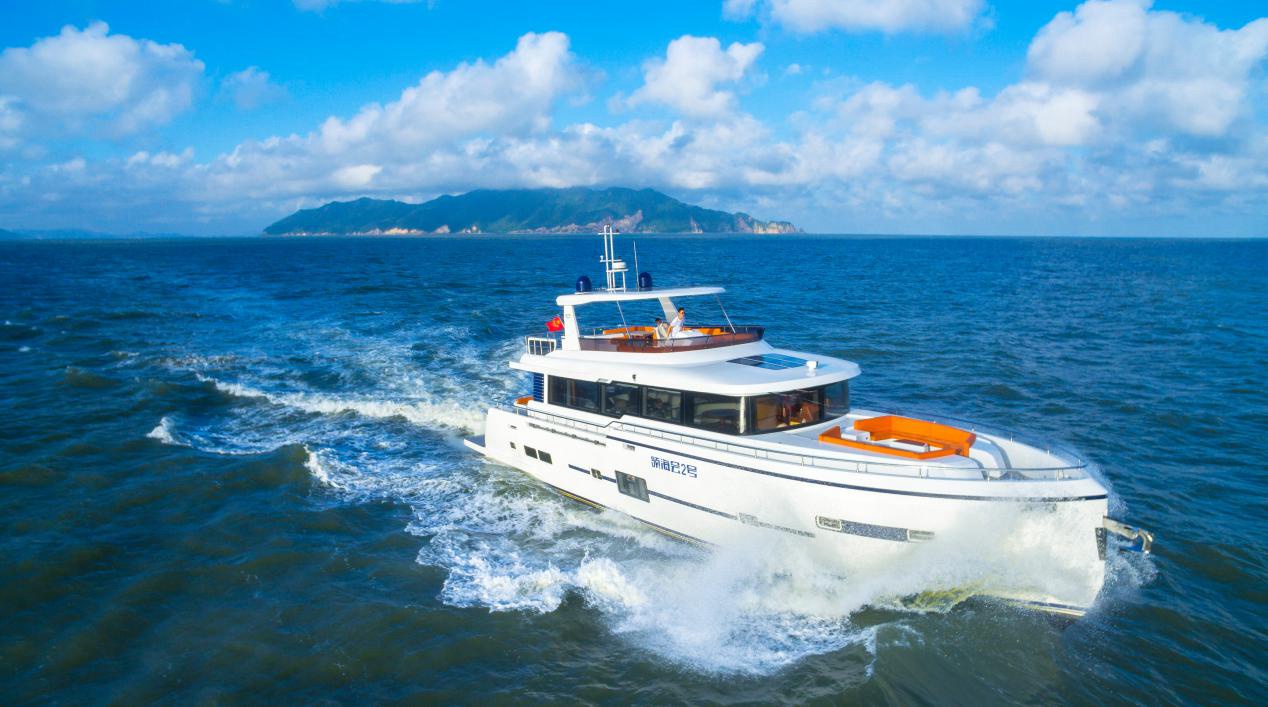 △宽景系列Zoom76
Today the yard employs nearly 400staff, working out of its 66,700 sqm facility with almost all work done inhouse bar the outsourcing of steel,some key products, materials and parts that the yard prefers to use proven International brandsfor.
如今,海星的员工将近400名,厂房占地66700平方米,所有建造工作都是在厂房内完成,个别钢结构外包及主要设备、原材料、零部件等皆进口。
Four lines are onoffer– the Heysea series (Heysea 60, 70, 78 and 82 models), Zoom series (Zoom58, 76 and Zoom Plus models), superyachts(Asteria 96 and 108 and Sealink 46.8) andcustom projects.
目前,海星的产品共有四个系列——海星系列(Heysea 60, 70, 78 和 82),宽景系列(Zoom 58, 76 和Zoom 双体),超艇系列(Asteria96,108和 Sealink 46.8)以及全定制系列。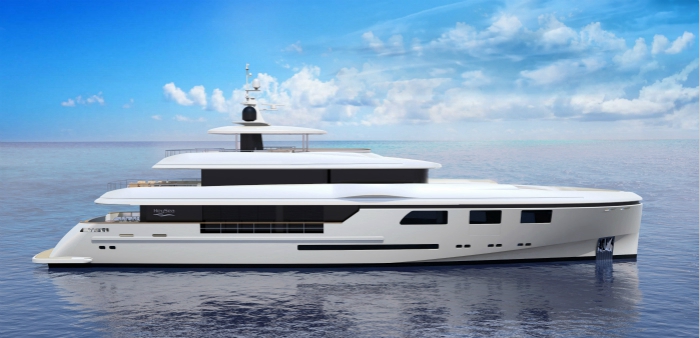 △Sealink 46.8
With every build the yard looks to counter some existing preconceptions that Chinese construction does not always equate to the highest quality, taking real pride in the skill and craftsmanshipof the yard team. Building mostly in composite, the yard is now branching out to also build steel hulls with composite super structures, and is also open todiscussing other build materials for custom projects.
随着海星产品的诞生,一次次地在技术与工艺上打破了现存的偏见——对中国产品质量的质疑。海星主要生产玻璃钢的游艇,现已开始制造玻璃钢-钢(混合)结构的游艇,同时可以根据需求定制其他材质(游艇)。
Currently most of Heysea's clientsare from Asia, particularly China, Hong Kong, Philippines and eastern Asia in general. As a Chinese yard, run by an experienced managementteam, Leng believes that they have a better understanding of what Chinese clients want than other yards in the industry and that this has played animportant part in their ongoing success.
目前为止,海星大多数的客户来自亚洲,如中国内陆、香港、菲律宾和东亚等地区。冷学华先生相信,作为一家本土品牌(游艇制造厂家),在经验丰富的管理团队的带领下,海星比行业内的其他游艇厂更懂中国客户的需求,而这也是海星能够取得成功的一个重要原因。
"Chinese owners use their yachts very differently and we understand what they want," he says frankly. "For example usually Chinese owners don't like living in the boat at night, they just use it in the day, going out cruising and having fun before returning to the marina,so the communal on board spaces on Chinese owned yachts are very important, more so than the accommodation."
"我们深知国内船东使用游艇的习惯是不一样的"冷学华先生坦率地说,"比如,中国买家不喜欢在船上居住,一般白天出游,游玩后当天返回游艇会,所以游艇上的公共休闲区域对他们来说是非常重要的,重视程度更甚于生活区域。"
It was client demand that quickly pushed Heysea Yachts into the superyacht sector with customers seeking bigger and bigger yachts while wanting to stay loyal to the brand.
客户对游艇尺寸要求越来越大,同时对海星品牌的喜爱与忠诚,加速了海星研发制造超级游艇的步伐。
"As an example, we have a client who bought a 60' boat from us and after only three months he told me, 'Allen I need a much bigger yacht, 60' is toosmall.' No problem. He then bought an 82' yacht," says Leng. "Two years later he called me and asked to buy one of our 108 models and sold his 82', so wesigned another contract." Reflective of this client demand for bigger yachts,the yard's Asteria 108 model has proved particularly popular with eight unitssold to date including two sales in the first quarter of 2017 alone.
冷学华先生回忆道:"我们有个客户,刚买了海星60英尺游艇三个月,就对我说'冷董,60英尺太小了,我要一艘更大的',于是,他接着买了一艘82英尺游艇。两年后他又打电话和我说,要卖掉现在的82英尺,另外购买我们108英尺游艇,因此我们又签了一份新合同。"Asteria108英尺船型由此推出,一经发布,倍受追捧,迄今为止已售出八艘,仅2017年第一季度就售出两艘。
For Leng there is a not able difference in the way Chinese buyers advance through ownership when compared tothe Western market. "I have found in the Western world that owners have smaller yachts first, starting around the 20 to 40' mark, and then upgrade, but inChina now they are starting much bigger, at 60 to 80', and skipping the smaller stages."
冷学华先生表示,相较于西方市场,中国买家购买游艇明显是不一样。"我发现在西方国家,船东都是先买小型游艇,尺寸约20英尺到40英尺左右,然后购买的尺寸会逐渐增大;但在中国情况则不同,他们一开始就会购买尺寸更大的游艇,大概在60英尺到80英尺之间,直接跳过小型游艇的阶段。"
This swift progression up in yacht size is one of the key reasons that the yard management team has identified the 40 to 60-metre bracket as their main focus for growth in the years ahead. "The40 to 60-metre sector will be our main range, and we are developing new models with European designers which will increase our offering," says Leng. "Ofcourse we will also offer total customisation for clients who want something unique to them as well."
买家购艇尺寸的增长是海星决定将40-60米游艇作为未来几年发展焦点的关键因素。冷学华先生谈到,"40-60米系列超级游艇将会是我们接下来的关键产品,我们会和欧洲的设计师合作,来提升我们的水平。而对于有个性化需求的客户,我们同样会提供全定制服务。"
The perfect example of a custom solution for clients is the 43-metrecatamaran Vista currently in build. "It's a really beautiful yacht," says Leng."Our client had been looking around the world at various shipyards and whether they could cater to the level of customisation he was after but the Europeanyards were too expensive for him as they were offering 100 percent customisation and that costs money," says Leng. "We totally designed the yacht according to what he wanted – we gave him a solution – and he said 'wow you cando this?' and committed to the build."
在建的43米双体游艇就是全定制系列的一个很好例子。冷学华先生感叹道:"那是一艘非常漂亮的游艇,船东踏遍世界各地,想找一家符合要求的船厂。因为客户要求百分百定制,这个成本很高,虽然对方能达到定制的要求,但报价太高。于是,我们根据客户的需求进行全面设计,并提供一个最终方案给客户,他们感到很惊讶,表示'哇,你们竟然能够做到?'之后(双方)达成一致,开始动工。"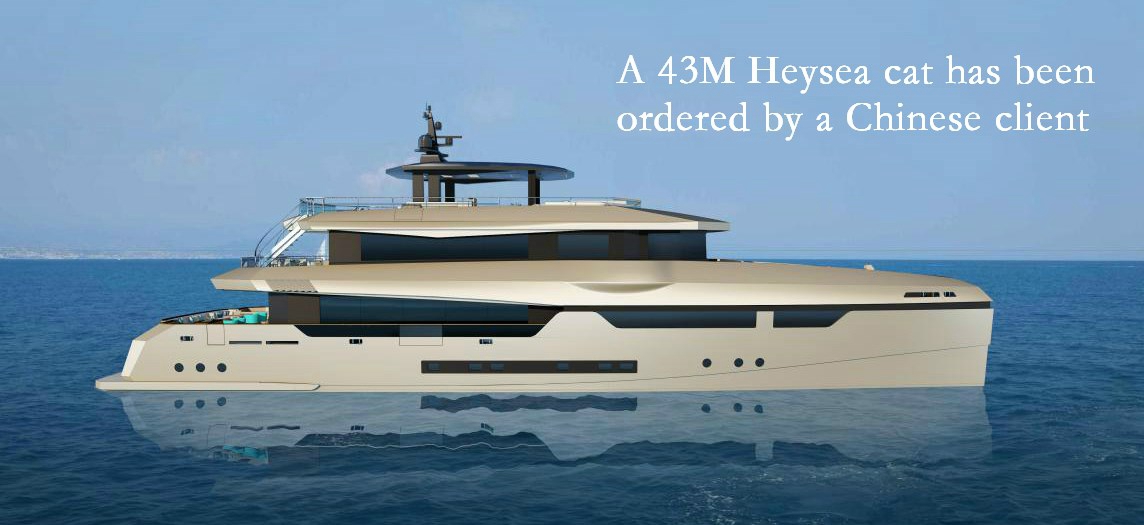 △43米双体游艇
Two years on, the yard is hard at work on the project with one year until delivery due to some additional changes the client wanted to make during the construction process. "It's a really beautiful yacht, I can't wait for the industry to see it," says Leng proudly.
过去两年,海星一直在努力(建造)施工43米双体游艇,在生产过程中客户提出一些计划外的修改,并表示1年内交付即可。"那游艇很漂亮,我迫切地希望整个行业的人都能目睹她的光彩。"冷学华先生自豪地说。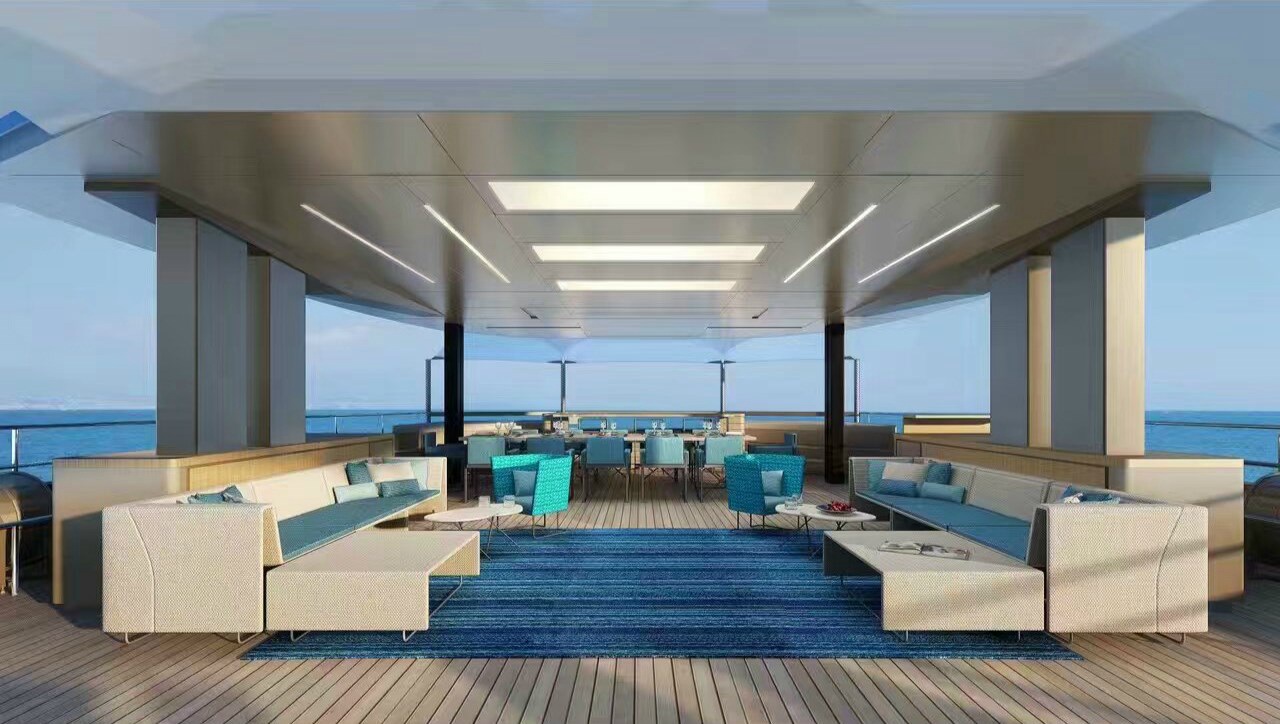 △43米双体游艇高度定制化内装设计
The yard adds new designs to its range every year, in order to keep its offering fresh, with the wide range ofprojects that are currently in build reflective of the different demands oftheir client base. 10 new builds are under construction at the time of writing including 58', 76', 78', 96', 108' and 115' motoryachts, the 43-metre custom catamaran and an 82' sailingyacht.
海星每年都会推出新的船型,确保产品的新鲜度。海星在建项目尺寸跨度大,这反映了客户需求不一。目前,海星有10个在建项目,包括58英尺、76英尺、78英尺、96英尺、108英尺、115英尺和43米双体定制游艇,以及82英尺帆船。
Sailing yachts are on Leng's radar for future development, believing that the sailing sector in China is set to grow in the years to come. "Sailing boats are growing in popularity in China,they are a good way for clients to enjoy them, especially when you can enjoy racing them in good company or with a team," he says. "We expect to sell more sailing yachts in the coming years, but only in the bigger sizes of 60' andover."
冷学华先生相信帆船时代即将到来,已将帆船列入发展计划。"帆船在中国愈发流行,若在优秀团队或公司的配合下,帆船驾驶是一种绝佳的娱乐方式,乐在其中。我们期待在接下来几年里售出更多的帆船,特别是60英尺以上的。"冷学华先生说道。
"I see lots of opportunities for the Middle East and other locations," says Leng, in explanation of the yard'spresence as an exhibitor at the Dubai International Boat Show. "Our currentclients tell us 'your design is very beautiful and of course your price is good' so we know we can be competitive in the Middle Eastern market, and next year we will come back to the Dubai show and keep building our presence here."
海星作为迪拜国际游艇展的参展商,冷学华先生表示"中东与附近其他市场潜力很大。当地客户反馈道'你们的产品设计新颖,价格亲民',由此可知我们在中东市场有竞争优势,明年会继续参加这个展会,推广我们的品牌。"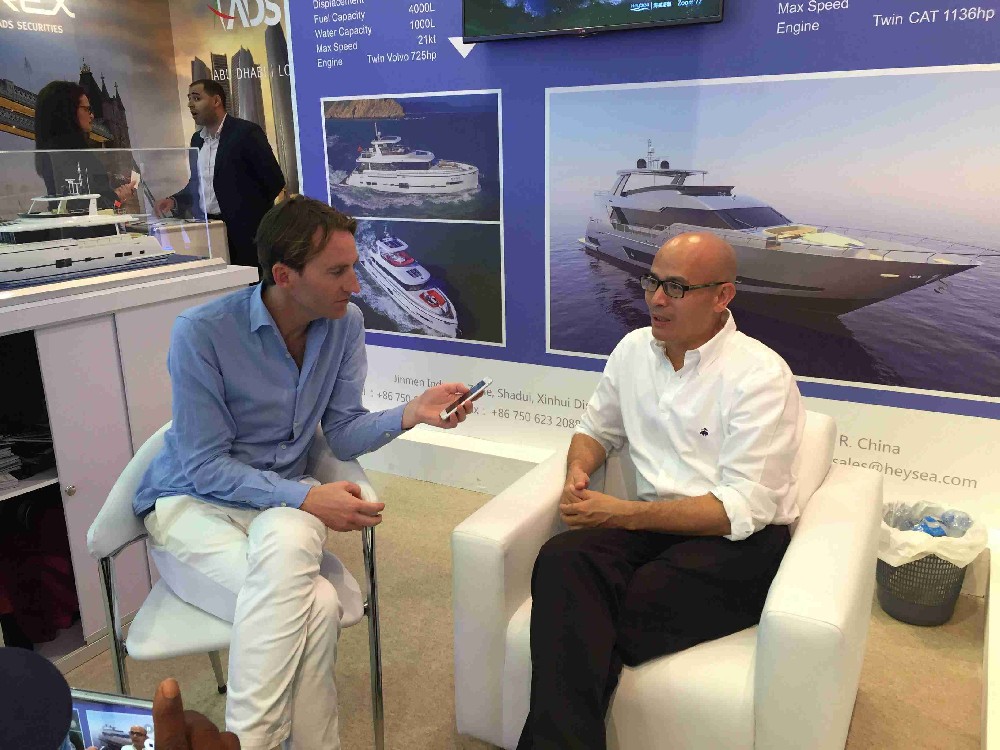 △冷学华先生在迪拜国际游艇展上接受本文记者采访
The ongoing development of their range is part of this global expansion strategy with results already showing."We are currently building the first of our Heysea 115 line, which we designed to be targeted at the North American market." Therecent addition of a US representative to the Heysea team is testament to theyard's long term commitment to this market. With so many exciting developments underway at the yard, there is no doubt that the coming decade will hold exciting things for Leng and the team at Heysea Yachts.
开发新的产品线是海星全球扩张战略的一部分,初有成效。冷学华先生说"Heysea115英尺游艇是针对北美市场的拳头产品,此款的第1艘已在建造中。"近来,美国办事处设立以及美国代表加入海星团队更进一步地证明海星攻占这个市场的决心。以上种种都毫无疑问地说明,在未来十年,冷学华先生与海星团队将会创造更多的奇迹。